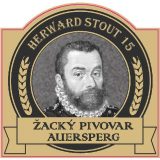 Herward Stout 15 is an unfiltered and unpasteurized beer from the category of dark specialty beers. Balanced body, medium bitterness, delicate aroma of hops, roasted aroma and taste and at the end caramel dot. Gesundheit!
Hops were used for production – Magnum and Sorachi Ace

Malts: Pale Ale, CaraAroma, Carafa II and oatmeal

Bitterness: 32 IBU

Color: 62 EBC

Alcoholic strength: 6,5 % vol.